Deut 6:9. "And thou shalt write them upon the posts of thy house, and on thy gates,"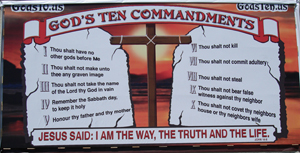 Ten Commandments

We are commanded to put them in public places. The word "gates" of Deuteronomy 6:9 refers to public places. For example, in Ruth 4:1-11, Boaz went to talk to the elders in the "Gates" to obtain permission to marry Ruth and obtain the rights to her land inheritance. Other passages like wise demonstrate this as well, I Kings 22:10, Ps 127: 5, Deut 14: 27-28, Deut 25: 7-8, and Ps 24:7. Our forefathers have obeyed the command to publicly post the Ten Commandments on our gates (public places), and have done so in over 4,000 public places across the United States alone, and many more in Europe. No other verse or passage of scripture is displayed in public places (Courthouses, parks, city halls) like the Ten Commandments are. The 10 Commandments is the only passage of scripture that we are told to display in public.

Judge Roy Moore is only one of 4,000 of our leaders who have made permanent public displays of the Ten Commandments in the U.S. Our forefathers have been doing this custom for centuries, publicly placing the Ten Commandments in stone or metal monuments. He is obviously the most prominent in recent history because he has refused to retreat from the pressure of the liberal politically correct, and he is one of the highest office holders to demonstrate courage under fire. We need to follow the example of thousands of our forefathers, and Judge Moore, and obey and display the Ten Commandments, and place in the "gates" or public places. This is the heritage and examples our forefathers set before us when they established America. We have over 4,000 examples set before us, the Ten Commandments is the most commonly placed scripture in public. It is so popular that the second or third place scripture has not been determined.

Places in the Bible, that "Gates" refers to public places, or seats of government.

Ruth 4 contains the story of Boaz going to the elders at the "GATES" (public place similar to a court house) and obtains legal permission and legal right to marry Ruth.

Ruth 4: 1-11
1 Then went Boaz up to the gate, and sat him down there: and, behold, the kinsman of whom Boaz spake came by; unto whom he said, Ho, such a one! turn aside, sit down here. And he turned aside, and sat down.

2 And he took ten men of the elders of the city, and said, Sit ye down here. And they sat down.

3 And he said unto the kinsman, Naomi, that is come again out of the country of Moab, selleth a parcel of land, which was our brother
Elimelech's:
4 And I thought to advertise thee, saying, Buy it before the inhabitants, and before the elders of my people. If thou wilt redeem it, redeem it: but if thou wilt not redeem it, then tell me, that I may know: for there is none to redeem it beside thee; and I am after thee. And he said, I will redeem it.

5 Then said Boaz, What day thou buyest the field of the hand of Naomi, thou must buy it also of Ruth the Moabitess, the wife of the dead, to raise up the name of the dead upon his inheritance.

6 And the kinsman said, I cannot redeem it for myself, lest I mar mine own inheritance: redeem thou my right to thyself; for I cannot redeem it.

7 Now this was the manner in former time in Israel concerning redeeming and concerning changing, for to confirm all things; a man plucked off his shoe, and gave it to his neighbour: and this was a testimony in Israel.

8 Therefore the kinsman said unto Boaz, Buy it for thee. So he drew off his shoe.

9 And Boaz said unto the elders, and unto all the people, Ye are witnesses this day, that I have bought all that was Elimelech's, and all that was Chilion's and Mahlon's, of the hand of Naomi.

10 Moreover Ruth the Moabitess, the wife of Mahlon, have I purchased to be my wife, to raise up the name of the dead upon his inheritance, that the name of the dead be not cut off from among his brethren, and from the gate of his place: ye are witnesses this day.

11 And all the people that were in the gate, and the elders, said, We are witnesses. The LORD make the woman that is come into thine house like Rachel and like Leah, which two did build the house of Israel: and do thou worthily in Ephratah, and be famous in Bethlehem:
Moses - Gates - and the Ten Commandments
Deuteronomy 14:27-28
27 And the Levite that is within thy gates; thou shalt not forsake him; for he hath no part nor inheritance with thee.

28 At the end of three years thou shalt bring forth all the tithe of thine increase the same year, and shalt lay it up within thy gates:
Deuteronomy 25:7-8
7 And if the man like not to take his brother's wife, then let his brother's wife go up to the gate unto the elders, and say, My husband's brother refuseth to raise up unto his brother a name in Israel, he will not perform the duty of my husband's brother.

8 Then the elders of his city shall call him, and speak unto him: and if he stand to it, and say, I like not to take her;

Moses has made it clear in the use of the word GATES that it is a public place of commerce, a place of business, a place like our local Courthouse. Place the Ten Commandments in public places like the GATES, Deut 6:9. Our forefathers have placed the Ten Commandments in public places more than any other passage of scripture. Over 4,000 public places in the United States have fulfilled the request of Moses to place them in the GATES.
1 Kings 22:10
And the king of Israel and Jehoshaphat the king of Judah sat each on his throne, having put on their robes, in a void place in the entrance of the gate of Samaria; and all the prophets prophesied before them.
Psalm 24:7
Lift up your heads, O ye gates; and be ye lift up, ye everlasting doors; and the King of glory shall come in.
Psalm 100:4
Enter into His gates with thanksgiving . . . . Be thankful to Him, and bless His name. ?
Psalm 127:5

If we have Godly children, one of the rewards is that our children will speak with the "Enemy" in the "gate" (public places or in places of government).
Happy is the man that hath his quiver full of them: they shall not be ashamed, but they shall speak with the enemies in the gate.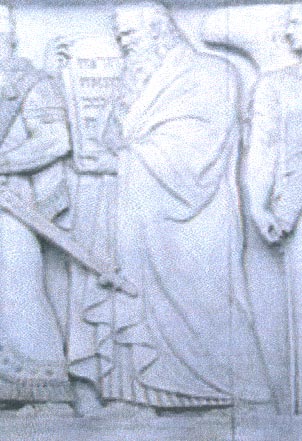 Ten Commandments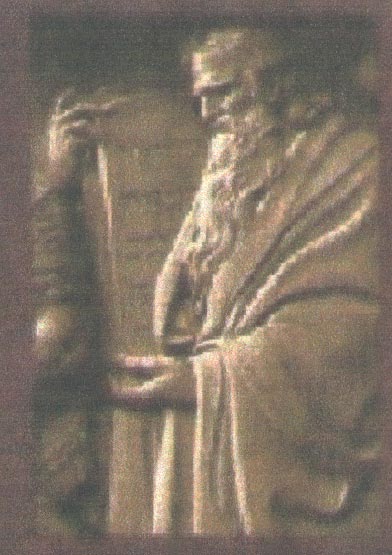 Moses Ten Commandments
What is the great commandment?
The Great Commandment from Jesus
Matthew 22
36 Master, which is the great commandment in the law?
37 Jesus said unto him, Thou shalt love the Lord thy God with all thy heart, and with all thy soul, and with all thy mind.
38 This is the first and great commandment.
39 And the second is like unto it, Thou shalt love thy neighbor as thyself.
40 On these two commandments hang all the law and the prophets.
Faith in Action - More info on the Great Commandment
Faith in Action
Reward for keeping Ten Commandments.
Deuteronomy 6:2-3
2 That thou mightest fear the LORD thy God, to keep all his statutes and his commandments, which I command thee, thou, and thy son, and thy son's son, all the days of thy life; and that thy days may be prolonged.
3 Hear therefore, O Israel, and observe to do it; that it may be well with thee, and that ye may increase mightily, as the LORD God of thy fathers hath promised thee, in the land that floweth with milk and honey.
Ten Commandments for Children.
Deuteronomy 6:7
And thou shalt teach them diligently unto thy children, and shalt talk of them when thou sittest in thine house, and when thou walkest by the way, and when thou liest down, and when thou risest up.
This verse makes it clear that a high priority of every day to to teach the Ten Commandments. We are to teach them for children.

The Golden Rule is found in 2 places:

Matthew 7:12
Therefore all things whatsoever ye would that men should do to you, do ye even so to them: for this is the law and the prophets.

Luke 6:31
And as ye would that men should do to you, do ye also to them likewise.
The law is fulfilled by love.

Galatians 5:14
For all the law is fulfilled in one word, even in this; Thou shalt love thy neighbor as thyself.