Biblical law was fundamental in the original Council of Chalcedon.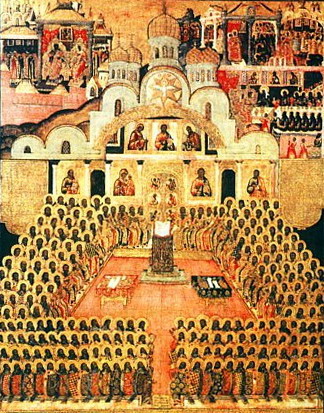 Biblical Law The Council of Chalcedon


To attempt to study Scripture without studying its law is to deny it. To attempt to understand Western civilization apart from the impact of Biblical law within it and upon it is to seek a fictitious history and to reject twenty centuries and their progress.

When R. J. Rushdoony wrote The Institutes of Biblical Law his purpose was a reversal of the present trend. It is called "Institutes" in the older meaning of that word, i.e., fundamental principles, here of law, because it is intended as a beginning, as an instituting consideration of that law which must govern society, and which shall govern society under God.

To understand Biblical law, it is necessary to understand also certain basic characteristics of that law. In it, certain broad premises or principles are declared. These are declarations of basic law. The Ten Commandments give us such declarations.

A second characteristic of Biblical law, is that the major portion of the law is case law,
i.e., the illustration of the basic principle in terms of specific cases. These specific cases are often illustrations of the extent of the application of the law; that is, by citing a minimal type of case, the necessary jurisdictions of the law are revealed.

The law, then, asserts principles and cites cases to develop the implications of those
principles, with its purpose and direction the restitution of God's order.


It is a modern heresy that holds that the law of God has no meaning nor any binding force for man today. It is an aspect of the influence of humanistic and evolutionary thought on the church and it posits an evolving and developing god. This "dispensational" god expressed himself in law in an earlier age, then later expressed himself by grace alone, and is now perhaps to express himself in still another way. But this is not the God of Scripture, whose grace and law remain the same in every age, because He, as the sovereign and absolute Lord, changes not, nor does He need to change.
The strength of man is the absoluteness of his God.
Biblical Law R.J. Rushdoony
Rushdoony's most important area of writing, however, was law and politics, as expressed in his small book of popular essays Law & Liberty and discussed in much greater detail in his three-volume, 1,894-page magnum opus, The Institutes of Biblical Law. With a title modeled after Calvin's Institutes of the Christian Religion, Rushdoony's Institutes was arguably his most influential work. In the book, he proposed that Old Testament law should be applied to modern society and that there should be a Christian theonomy, a concept developed in his colleague Greg Bahnsen's controversial tome Theonomy and Christian Ethics, which Rushdoony heartily endorsed. In the Institutes, Rushdoony supported the reinstatement of the Mosaic law's penal sanctions. Under such a system, the list of civil crimes which carried a death sentence would include homosexuality, adultery, incest, lying about one's virginity, bestiality, witchcraft, idolatry or apostasy, public blasphemy, false prophesying, kidnapping, rape, and bearing false witness in a capital case.[8] Although supporting the separation of church and state at the national level, Rushdoony understood both institutions as under the rule of God,[9] and thus he conceived secularism as posing endless false antitheses, which his massive work addresses in considerable detail. In short, he sought to cast a vision for the reconstruction of society based on Christian principles.

The book was also critical of democracy. He wrote that "the heresy of democracy has since then worked havoc in church and state ... Christianity and democracy are inevitably enemies." He elsewhere said that "Christianity is completely and radically anti-democratic; it is committed to spiritual aristocracy," and characterized democracy as "the great love of the failures and cowards of life."

Rushdoony's work has been used by Dominion Theology advocates who attempt to implement a Christian theocracy, a government subject to Biblical law, especially the Torah, in the United States. Authority, behavioural boundaries, economics, penology and the like would all be governed by biblical principles in Rushdoony's vision, but he also proposed a wide system of freedom, especially in the economic sphere, and claimed Ludwig von Mises as an intellectual mentor; he called himself a Christian libertarian.

Rushdoony was the founder in 1965 of the Chalcedon Foundation and the editor of its monthly magazine, the Chalcedon Report. He also published the Journal of Christian Reconstruction and was an early board member of the Rutherford Institute, founded in 1982 by John Whitehead. He later received an honorary Doctorate from Valley Christian University for his book, The Philosophy of the Christian Curriculum.

Definition of Chalcedon
The Definition of the Council of Chalcedon (451 A.D)

Therefore, following the holy fathers, we all with one accord teach men to acknowledge one and the same Son, our Lord Jesus Christ, at once complete in Godhead and complete in manhood, truly God and truly man, consisting also of a reasonable soul and body; of one substance with the Father as regards his Godhead, and at the same time of one substance with us as regards his manhood; like us in all respects, apart from sin; as regards his Godhead, begotten of the Father before the ages, but yet as regards his manhood begotten, for us men and for our salvation, of Mary the Virgin, the God-bearer; one and the same Christ, Son, Lord, Only-begotten, recognized in two natures, without confusion, without change, without division, without separation; the distinction of natures being in no way annulled by the union, but rather the characteristics of each nature being preserved and coming together to form one person and subsistence, not as parted or separated into two persons, but one and the same Son and Only-begotten God the Word, Lord Jesus Christ; even as the prophets from earliest times spoke of him, and our Lord Jesus Christ himself taught us, and the creed of the fathers has handed down to us.




Page 2 - Click For Information - The 10 Commandments of Moses

The Chalcedon:

The Nicene Creed: