The Council of Chalcedon has become the icon symbol for the foundation for Biblical law. Presbyterian churches have struggled with the concept of Biblical law, with the clear requirement to follow the moral law is found in the Westminster Confession of Faith, Chapter 19. The original council laid out basic Bible doctrine, to include the following of the moral law. Presbyterian churches have been greatly influenced by the original council and most follow the Westminster Confession admiration to obey the moral law and the Sabbath day. A modern day Chalcedon Presbyterian Church will place emphasis on Biblical law Chapter 19 of the Westminster Confession of Faith.

The Council of Chalcedon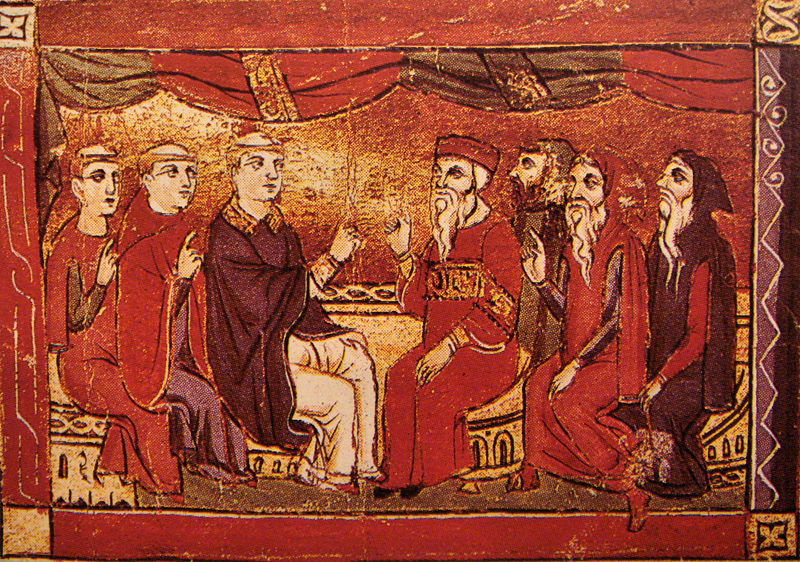 The Chalcedon
The most important of all the sessions was the fifth, held 22 October; in this the bishops published a decree concerning the Christian Faith, which must be considered as the specific dogmatic decree of the Fourth General Council. A special commission, consisting of the papal legates, of Anatolius of Constantinople, Maximus of Antioch, Juvenal of Jerusalem, and several others, was appointed to draw up this creed or symbol. After again approving the decrees and symbols of the Councils of Nicaea (325), Constantinople (381), and Ephesus (431), as well as the teaching of St. Cyril against Nestorius and the dogmatic epistle of Pope Leo I, the document in question declares:

We teach . . . one and the same Christ, Son, Lord, Only-begotten, known in two natures, without confusion, without change, without division, without separation.

After the recitation of the decree all the bishops exclaimed that such was the true faith, and that all should at once sign their names to it. The imperial commissioners announced that they would communicate to the emperor the decree as approved by all the bishops.

The sixth session (25 October) was celebrated with special solemnities; Marcian and Pulcheria were present with a great attendance, with all the imperial commissioners and the Senate. The emperor made an appropriate address; the decree of faith made in the preceding session was read again and approved by the emperor; and with joyful acclamations to the emperor and to the empress, in which they were compared to Constantine and Helena, the proceedings were closed.


Chalcedon 451
The Chalcedon Council of 451 was convoked at Nicaea but later transferred to Chalcedon, so as to be close to Constantinople and the emperor. It began on 8 October 451. The legates Paschasinus, Bishop Lucentius and the priest Boniface presided, while Julian of Cos sat among the bishops. By their side were the imperial commissars and those serving on the Senate, whose responsibility was simply to keep order in the council's deliberations.

The lists we have of those present are unsatisfactory. According to Leo there were 600 bishops at the council, whereas according to a letter to him there were 500.

The "Definition of the faith" was passed at the council's fifth session, and was solemnly promulgated at the sixth session in the presence of the emperor and the imperial authorities. The formula accepted in the decree is: Christ is one in two natures. This is in agreement with Leo's letter to Flavian of Constantinople, and Leo's letter is expressly mentioned in the Definition of the faith .

The sacred and great and universal synod by God's grace and by decree of your most religious and Christ-loving emperors Valentinian Augustus and Marcian Augustus assembled in Chalcedon, metropolis of the province of Bithynia, in the shrine of the saintly and triumphant martyr Euphemia, issues the following decrees.

In establishing his disciples in the knowledge of the faith, our lord and saviour Christ said: "My peace I give you, my peace I leave to you"', so that no one should disagree with his neighbour regarding religious doctrines but that the proclamation of the truth would be uniformly presented. But the evil one never stops trying to smother the seeds of religion with his own tares and is for ever inventing some novelty or other against the truth; so the Master, exercising his usual care for the human race, roused this religious and most faithful emperor to zealous action, and summoned to himself the leaders of the priesthood from everywhere, so that through the working of the grace of Christ, the master of all of us, every injurious falsehood might be staved off from the sheep of Christ and they might be fattened on fresh growths of the truth.

This is in fact what we have done. We have driven off erroneous doctrines by our collective resolution and we have renewed the unerring creed of the fathers. We have proclaimed to all the creed of the 318; and we have made our own those fathers who accepted this agreed statement of religion -- the 150 who later met in great Constantinople and themselves set their seal to the same creed. October Chalcedon 451.

The Chalcedon:

The Nicene Creed: