The Nicene Creed was formulated at the First Ecumenical Council at Nicea in AD 325 to combat Arianism, and it was expanded at the Second Ecumenical Council at Constantinople in AD 381 to balance its coverage of the Trinity by including the Holy Spirit. It is the only creed that was promulgated by any of the seven ecumenical councils and thus it is the only creed that is truly ecumenical and universal. In the Orthodox Church, it is the only creed.
The New Testament and the Nicene Creed are deeply entangled with each other. The wording and the concepts in the Nicene Creed come from the New Testament—in fact, one of the most important debates at the Council of Nicea concerned whether it is proper to include a word in the Nicene Creed that does not occur in the New Testament. On the other hand, at the time that the Church issued the official canon of the New Testament, it customarily compared writings to the Nicene Creed to determine if they were orthodox. So you are correct if you say that the Nicene Creed proceeds from the New Testament, and you are correct if you say that the New Testament is certified by the Nicene Creed.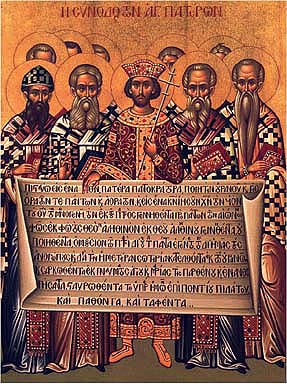 What is the Nicene Creed

In tracing the origin of the Bible, one is led to AD 325, when Constantine the Great called the First Council of Nicaea, composed of 300 religious leaders. Three centuries after Jesus lived, this council was given the task of separating divinely inspired writings from those of questionable origin. The actual compilation of the Bible was an incredibly complicated project that involved churchmen of many varying beliefs, in an atmosphere of dissension, jealousy, intolerance, persecution and bigotry.

At this time, the question of the divinity of Jesus had split the church into two factions. Constantine offered to make the little-known Christian sect the official state religion if the Christians would settle their differences. Apparently, he didn't particularly care what they believed in as long as they agreed upon a belief. By compiling a book of sacred writings, Constantine thought that the book would give
authority to the new church.
Nicene Creed Text
In English:

We believe in one God, the Father Almighty, the maker of heaven and earth, of things visible and invisible.
And in one Lord Jesus Christ, the Son of God, the begotten of God the Father,
the Only-begotten, that is of the essence of the Father.
God of God, Light of Light, true God of true God, begotten and not made; of the very same nature of the Father,
by Whom all things came into being, in heaven and on earth, visible and invisible.
Who for us humanity and for our salvation came down from heaven, was incarnate, was made human,
was born perfectly of the holy virgin Mary by the Holy Spirit. By whom He took body, soul, and mind, and everything that is in man, truly and not in semblance.
He suffered, was crucified, was buried, rose again on the third day, ascended into heaven with the same body, [and] sat at the right hand of the Father.
He is to come with the same body and with the glory of the Father, to judge the living and the dead;
of His kingdom there is no end. We believe in the Holy Spirit, in the uncreated and the perfect;
Who spoke through the Law, prophets, and Gospels; Who came down upon the Jordan, preached through the apostles, and lived in the saints.
We believe also in only One, Universal, Apostolic, and [Holy] Church; in one baptism in repentance,
for the remission, and forgiveness of sins; and in the resurrection of the dead, in the everlasting judgement of souls and bodies,
and the Kingdom of Heaven and in the everlasting life.

In Greek:

Πιστεύω εἰς ἕνα Θεόν, Πατέρα, Παντοκράτορα, ποιητὴν οὐρανοῦ καὶ γῆς, ὁρατῶν τε πάντων καὶ ἀοράτων.
Καὶ εἰς ἕνα Κύριον Ἰησοῦν Χριστόν, τὸν Υἱὸν τοῦ Θεοῦ τὸν μονογενῆ, τὸν ἐκ τοῦ Πατρὸς γεννηθέντα πρὸ πάντων τῶν αἰώνων·
φῶς ἐκ φωτός, Θεὸν ἀληθινὸν ἐκ Θεοῦ ἀληθινοῦ, γεννηθέντα οὐ ποιηθέντα, ὁμοούσιον τῷ Πατρί, δι' οὗ τὰ πάντα ἐγένετο.
Τὸν δι' ἡμᾶς τοὺς ἀνθρώπους καὶ διὰ τὴν ἡμετέραν σωτηρίαν κατελθόντα ἐκ τῶν οὐρανῶν καὶ σαρκωθέντα
ἐκ Πνεύματος Ἁγίου καὶ Μαρίας τῆς Παρθένου καὶ ἐνανθρωπήσαντα.
Σταυρωθέντα τε ὑπὲρ ἡμῶν ἐπὶ Ποντίου Πιλάτου, καὶ παθόντα καὶ ταφέντα.
Καὶ ἀναστάντα τῇ τρίτῃ ἡμέρᾳ κατὰ τὰς Γραφάς.
Καὶ ἀνελθόντα εἰς τοὺς οὐρανοὺς καὶ καθεζόμενον ἐκ δεξιῶν τοῦ Πατρός.
Καὶ πάλιν ἐρχόμενον μετὰ δόξης κρῖναι ζῶντας καὶ νεκρούς, οὗ τῆς βασιλείας οὐκ ἔσται τέλος.
Καὶ εἰς τὸ Πνεῦμα τὸ Ἅγιον, τὸ κύριον, τὸ ζωοποιόν, τὸ ἐκ τοῦ Πατρὸς ἐκπορευόμενον,
τὸ σὺν Πατρὶ καὶ Υἱῷ συμπροσκυνούμενον καὶ συνδοξαζόμενον, τὸ λαλῆσαν διὰ τῶν προφητῶν.
Εἰς μίαν, Ἁγίαν, Καθολικὴν καὶ Ἀποστολικὴν Ἐκκλησίαν.
Ὁμολογῶ ἓν βάπτισμα εἰς ἄφεσιν ἁμαρτιῶν. Προσδοκῶ ἀνάστασιν νεκρῶν.
Καὶ ζωὴν τοῦ μέλλοντος αἰῶνος.
Ἀμήν.

In Latin:

Credo in unum Deum, Patrem omnipoténtem,
Factórem cæli et terræ, Visibílium ómnium et invisibílium.
Et in unum Dóminum Iesum Christum,
Fílium Dei Unigénitum,
Et ex Patre natum ante ómnia sæcula.
Deum de Deo, lumen de lúmine, Deum verum de Deo vero,
Génitum, non factum, consubstantiálem Patri:
Per quem ómnia facta sunt.
Qui propter nos hómines et propter nostram salútem
Descéndit de cælis.
Et incarnátus est de Spíritu Sancto
Ex María Vírgine, et homo factus est.
Crucifíxus étiam pro nobis sub Póntio Piláto;
Passus, et sepúltus est,
Et resurréxit tértia die, secúndum Scriptúras,
Et ascéndit in cælum, sedet ad déxteram Patris.
Et íterum ventúrus est cum glória,
Iudicáre vivos et mórtuos, Cuius regni non erit finis.
Et in Spíritum Sanctum, Dóminum et vivificántem:
Qui ex Patre Filióque procédit.
Qui cum Patre et Fílio simul adorátur et conglorificátur:
Qui locútus est per prophétas.
Et unam, sanctam, cathólicam et apostólicam Ecclésiam.
Confíteor unum baptísma in remissiónem peccatorum.
Et expecto resurrectionem mortuorum, Et vitam ventúri sæculi.
Amen.

The Nicene Creed:


The Chalcedon: