Moses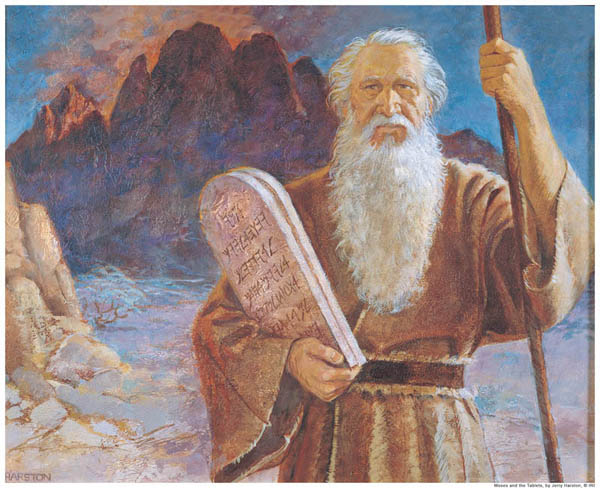 The Bible and Moses


In the Bible, God used Moses as our law giver. Our forefathers believed that the laws of Old Testament were the very foundation of the American Law Code and the English Common Law. To engrave that concept into our mind, our fore fathers posted pics of Moses and the moral law throughout the US Supreme Court building. You may wish to see pictures of Moses at the US Supreme Court. Moses

To see what Moses wrote:
Ten Commandments written out

Found in Exodus 20:1-17, and also in Deuteronomy 5:6-21

Moses and the Ten Commandments See Moses in the U.S. Capital.

Moses Law

Wear the Moral Law of Moses on our Clothes?

A common custom in ancient Israel.

Click for Ten Commandments of Moses

See a Bible video pics of dramatic presentation of the finger of God writing upon the tablets of Stone.
http://www.gods-ten-commandments.com

To learn more about the Bible law of Moses - Click Here: Law of MosesThis is a Biblical perspective.
Bibliical Ten Commandments

More music about the Commands Ten Commandments Music

Exodus 34:28
And he was there with the LORD forty days and forty nights; he did neither eat bread, nor drink water. And he wrote upon the tables the words of the covenant, the ten commandments.

Good Health is promised to those who keep the Ten Commandments

Exodus 15:26
And said, If thou wilt diligently hearken to the voice of the LORD thy God, and wilt do that which is right in his sight, and wilt give ear to his commandments, and keep all his statutes, I will put none of these diseases upon thee, which I have brought upon the Egyptians: for I am the LORD that healeth thee.

Hallelujah Acres: the biblical natural diet. Learn the relationship of keeping God's Commandments with solving health problems.

Hallelujah Acres presents: The Hallelujah Diet! A biblical diet and lifestyle for eliminating sickness.
www.hacres.com (Click Here to improve your health http://www.hacres.com

Ten Commandments Decalogue Ten Commandments info

www.godstenlaws.com The Ten Commandments of God are Laws with Purpose

The Ten Commandments Rally
Ten Commandments News, Dec 4, 2005
Ten Commandments Special - ABC Nightline
Ten Commandments News January 4, 2005
January 20 Ten Commandments News
The Ten Commandments News - February 18, 2005
The Ten Commandments News - March 14, 2005
The Ten Commandments
The Ten Commandments News - May 20, 2005
The Ten Commandments News - June, 2005
Supreme Court issues Rulings on Ten Commandments Cases
Alabama Judge Roy Moore
Judge Roy Moore
The Ten Commandments News - November 4, 2005
The Ten Commandments News - Thanksgiving Edition
Ten Commandments Day
The Commandments Written Out
The Law of Moses
Moses - The Story of Moses
Ten Commandments in the Bible
The 10 Commandments are Listed in Exodus 20
Judge Roy Moore Book Tour
Chief Justice Roy Moore
So Help Me God - Book Summary
The List of the "Ten Commandments"
Ten Commandments of Moses
Ten Commandments Display
News about the Book: So Help Me God by Judge Roy Moore
Moses - The Supreme Court and Ten Commandments The front entrance

Ten Commandments of God
"Love is the fulfilling of the law."

Romans 13:8-10


8

Owe no man any thing, but to love one another: for he that loveth another hath fulfilled the law.


9

For this, Thou shalt not commit adultery, Thou shalt not kill, Thou shalt not steal, Thou shalt not bear false witness, Thou shalt not covet; and if there be any other commandment, it is briefly comprehended in this saying, namely, Thou shalt love thy neighbour as thyself.


10

Love worketh no ill to his neighbour: therefore love is the fulfilling of the law.

The law is fulfilled by love.

Galatians 5:14


14

For all the law is fulfilled in one word, even in this; Thou shalt love thy neighbour as thyself.

The Golden Rule:

Matthew 7:12
Therefore all things whatsoever ye would that men should do to you, do ye even so to them: for this is the law and the prophets.

Luke 6:31
And as ye would that men should do to you, do ye also to them likewise.

Leviticus 26:14
But if ye will not hearken unto me, and will not do all these commandments;

Leviticus 26:15
And if ye shall despise my statutes, or if your soul abhor my judgments, so that ye will not do all my commandments, but that ye break my covenant:

Numbers 36:13
These are the commandments and the judgments, which the LORD commanded by the hand of Moses unto the children of Israel in the plains of Moab by Jordan near Jericho.

Genesis 26:5
Because that Abraham obeyed my voice, and kept my charge, my commandments, my statutes, and my laws.
mercy unto thousands of them that love me, and keep my commandments.

Found in Exodus 20:1-17, and also in Deuteronomy 5:6-21

List of the Ten Commandments in order

The Ten Commandments of God bring you these Weekly Lessons in Christian History



August 10, 1886: Joseph M. Scriven, Irish Plymouth Brethren hymnwriter, dies. He spent his life performing menial work for the destitute, and both of his engagements ended with the sudden deaths of his fiancees. Nonetheless, his best-known hymn is the uplifting "What a Friend We Have in Jesus.

August 10, 1760: Samuel Leigh, the first Methodist minister in Australia, arrives in Sydney. The Methodist denomination is now Australia's third largest, with an adherence of 10 percent of the population.

August 11, 1253: Clare of Assisi, a Benedictine nun known for her spiritual relationship with St. Francis and for founding the Poor Clares, dies. In 1958, citing a legend that Clare once saw and heard Mass being celebrated miles away, Pope Pius XII proclaimed her the patron saint of television.